Price without VAT
Personal emergency breathing system made to the latest standards within helicopter safety for passengers and pilots/crew.  System is developed by Hansen Protection in cooperation with the Poseidon Diving Systems in Sweden.
Emergency breathing system with compressed air certified by CAA-UK according to CAP 1034
200bar pressure provides app 80l of reserve air
For integration in SeaLion Europe Passenger and Pilot Lifejackets
State of the art first and second stage regulators
The regulators have very good protection against freezing; - provides safe breathing in water temperatures around zero degrees Celsius
Ergonomic mouthpiece with nose clip that fits all noses
Image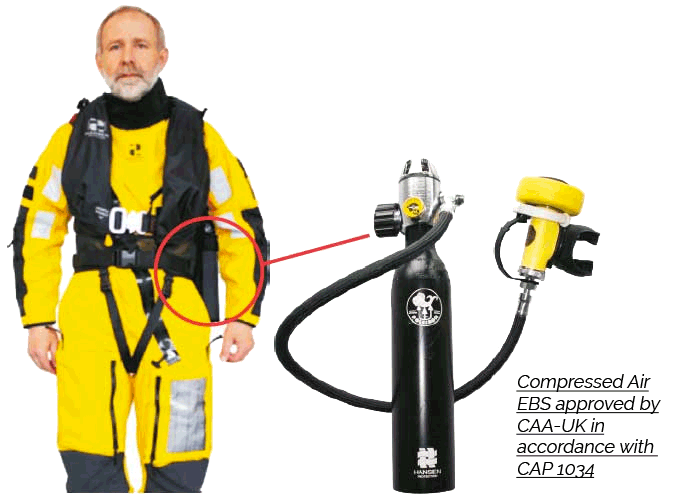 Lifejacket

Helicopter

Material

Cylinder: Aluminium
First stage regulator: Brass (corrosion protected)

Cylinder size/material

0,40 l / aluminum

Pressure/volume

200 bar / 80 litres air

Other certifications

CAA-UK CAP 1034

Dimensions

Height total system: 33 cm
Hose length: 50 cm

Weight

1,73 kg
From one of the world's foremost developers and manufacturers of survival equipment
Hansen Protection has been a pioneer in safety at sea since we launched kapok lifejackets in 1932.
Our current range continues the company's strong traditions, where our greatest concern is to ensure optimal functionality and performance for all types of work at sea.
A first class survival suit can mean the difference between life and death.
As one of the world's foremost developers and manufacturers of survival equipment, Hansen Protection can offer a wide collection of survival suits. Survival can never be guaranteed, but we can guarantee that our survival suits satisfy the highest demands for safety.
Survival suits are obligatory for personnel on oil rigs, passenger ferries, merchant and fishing fleets plus in offshore helicopter transport.
Our dry suits provide sufficient buoyancy and protect against heat loss, and thus increase the survival time in cold water. All suits are tested and approved according to the strictest national and international standards.